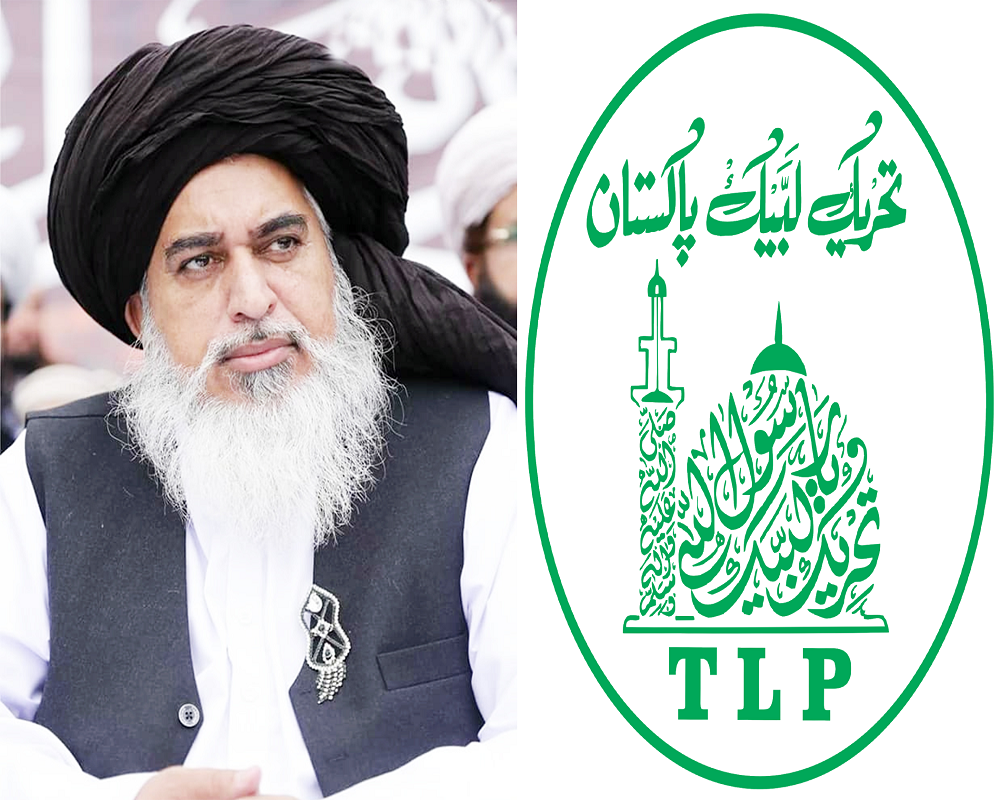 Allama Khadim Hussain Rizvi's Introduction:
Today we will discuss an outstanding personality who was most famous in Pakistan. He is as Allama after getting an education in Hadith, Hafiz-e-Quran, and other Islamic subjects. Allama was famous for Sheikh ul Hadith and knew about Islam. Allama Khadim Hussain Rizvi famous when he gave a lecture in the Punjab Auqaf and Religious Affairs Department. Let's talk about his life and his workings. Allama Khadim Hussain Rizvi is a real world hero.
| | |
| --- | --- |
| Basic Information | Allama Khadim Hussain Rizviعلامہ خادم حسین رضوی |
| Nationality | Pakistani |
| Religion | Islam |
| Date of Birth | 22nd May 1966 |
| Place of Birth | Pindigheb, West Pakistan, |
| Date of Death | 19th November 2020 |
| Place of Death | Lahore, Punjab, Pakistan |
| Cause of Death | Fever |
| History made | Historical Funeral prayer in the world's history |
| Health | Disable from legs |
| Age | 54 years old |
| Language Skills | Urdu, Punjabi, Persian, Arabic |
| School | Got classes of Hafiz e Quran from Jhelum Madrasa |
| High School / College / Madrasa | Jamia Nizamia, Lahore |
| Occupation | Islamic Preacher |
| Predecessor | Position Established |
| Successor | Hafiz Saad Hussain Rizvi |
| Political Party | Tehreek-e-Labbaik Pakistan |
| Career | 2003 – 2020 |
| Famous for | The founder of Tahreek-e-Labbaik Pakistan, |
| Title | Allama |
| Other works | Pakistani Islamic cleric |
Early life and Education: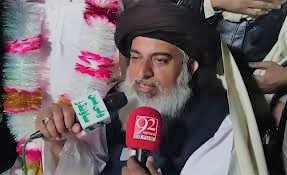 Allama Khadim Hussain Rizvi was born on 22nd May 1966 in Pindigheb, which is a part of Attock District, Punjab. His elder brother is a retired junior commissioner's Office (JCO) from the Pakistan Army. At his younger age, he got the education of Quran PAK from a Madrasa of Jhelum. At there, he became Hafiz-e-Quran and went to Lahore. When he was in Lahore, he got admission to Jamia Nizamia, Lahore, where he became a Sheikh-ul-Hadith. Started delivery of Friday Sermons at Lahore's Pir Makki Masjid, before that he joined Punjab Auqaf and Religious Affairs department. He had an accident in Gujranwala when the driver of his vehicle falls into a deep sleep. He was going from Rawalpindi to Lahore on that day [1].
Founded a party:
In 2015, he established an ideological group called Tehreek-e-Labbaik Pakistan (TLP), a political front for Tehreek Labbaik Ya Rasool Allah (TLYP). TLP appeared after the hanging of Mumtaz Qadri, who killed Salmaan Taseer, the Governor of Punjab, for contradicting the profanation laws and along these lines rose to notoriety. During the death of the Governor, Rizvi was filling in as an awqaf official in the Punjab government. Rizvi had legitimized the death on the affection that Taseer had named the impiety law as a "dark law". He cautioned notification to quit it from spreading his perspectives for obscenity laws however his refusal to do so prompted his expulsion from public service.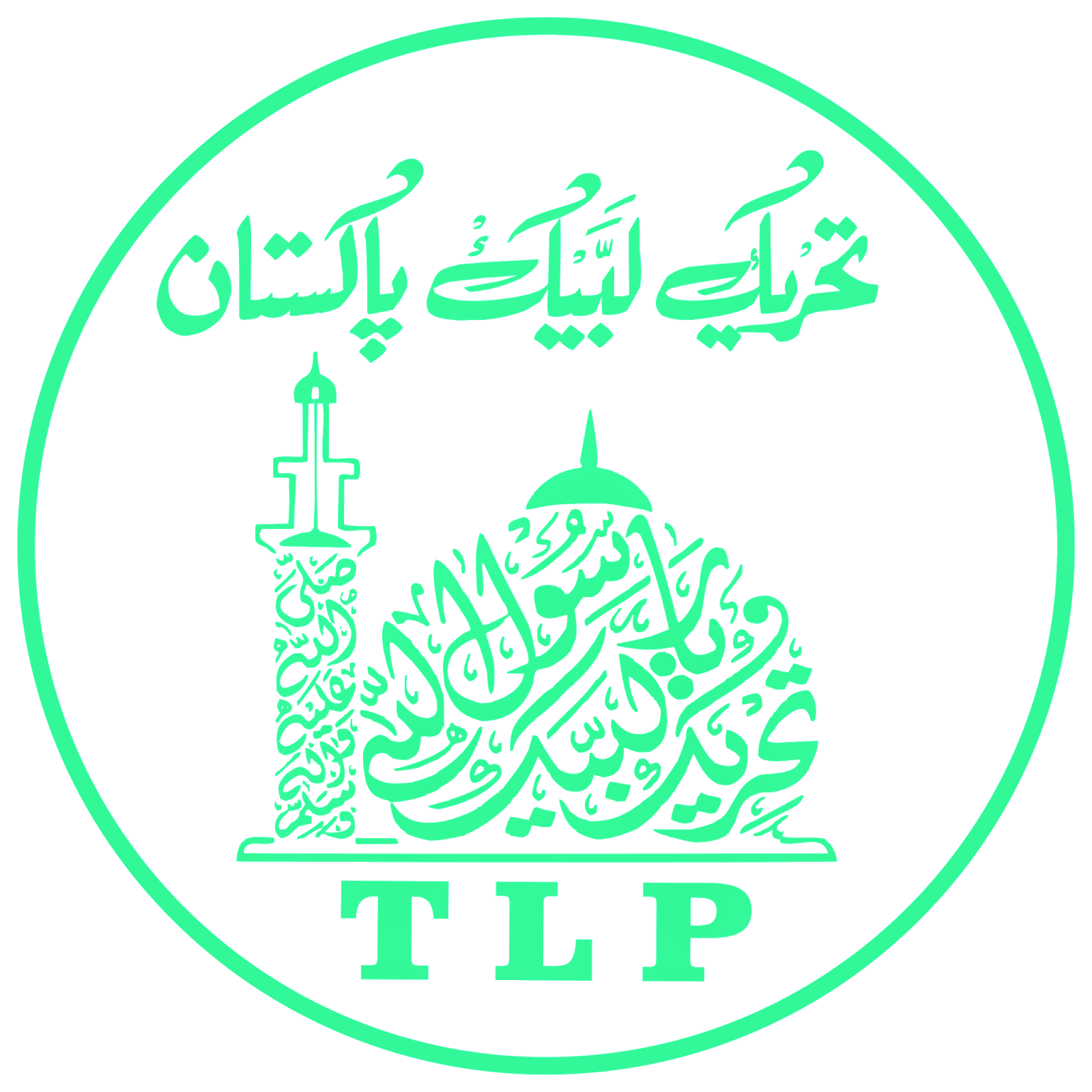 After his evacuation, Rizvi had greater occasion to lecture his perspectives. He went the nation over to assemble uphold for Section 295-C of the Pakistan Penal Code, which manages irreverence submitted against Muhammad. He likewise stood up for Mumtaz Qadri; his industrious promotion bought him the epithet of "profanation lobbyist" in religious circles [1].
Protest against ASIA BIBI by TLP:
All the supporters of Pakistan Tahreek-e-Labbaik which was founded by Khadim Hussain Rizvi came on the streets after the court rescued Asia Bibi, who was a Christian woman. She was in jail for about 9 years on allegations of blasphemy. They were doing bothering in many cities of Pakistan, including Lahore, Faisalabad, Karachi, and Islamabad. All the roads were blocked. Network service also blocked for human safety [2].
Allama Khadim Hussain Rizvi Arrested in Lahore:
The head of Tahreek-e-Labaik Khadim Hussain Rizvi has been captured by the Police alongside his individuals in Lahore from his Hujra. As per the Police sources, a few TLP pioneers from various urban areas will be in our care soon. The crackdown of the police happens not long after he declares the 25th November rally where he settled on a decision to a few chiefs for a Sit in Faizabad [2].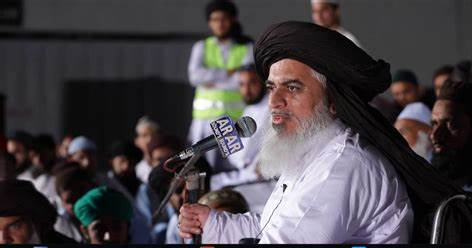 The head of TLP Khadim Hussain Rizvi has held under incitement and illegal intimidation charges yesterday on first December told by Information Minister Fawad Chaudhry. He added that other top heads of the religiopolitical party have additionally held under psychological oppression and incitement charges including Pir Afzal Qadri, Inayatul Haq Shah, Hafiz Farooq ul Hassan and some more. While the individuals who legitimately included for causing the harm and loss of 50 million during the descent are additionally being reserved [2].
An Agreement of Tahreek-e-Labbaik and the Government of Pakistan:
Bureaucratic Interior Minister Ahsan Iqbal and Federal Interior Secretary Arshad Mirza consented to the arrangement from the government's side while Allama Khadim Hussain Rizvi, Pir Afzal Qadri, and Mohammad Waheed Noor consented to the arrangement from for the strict parties.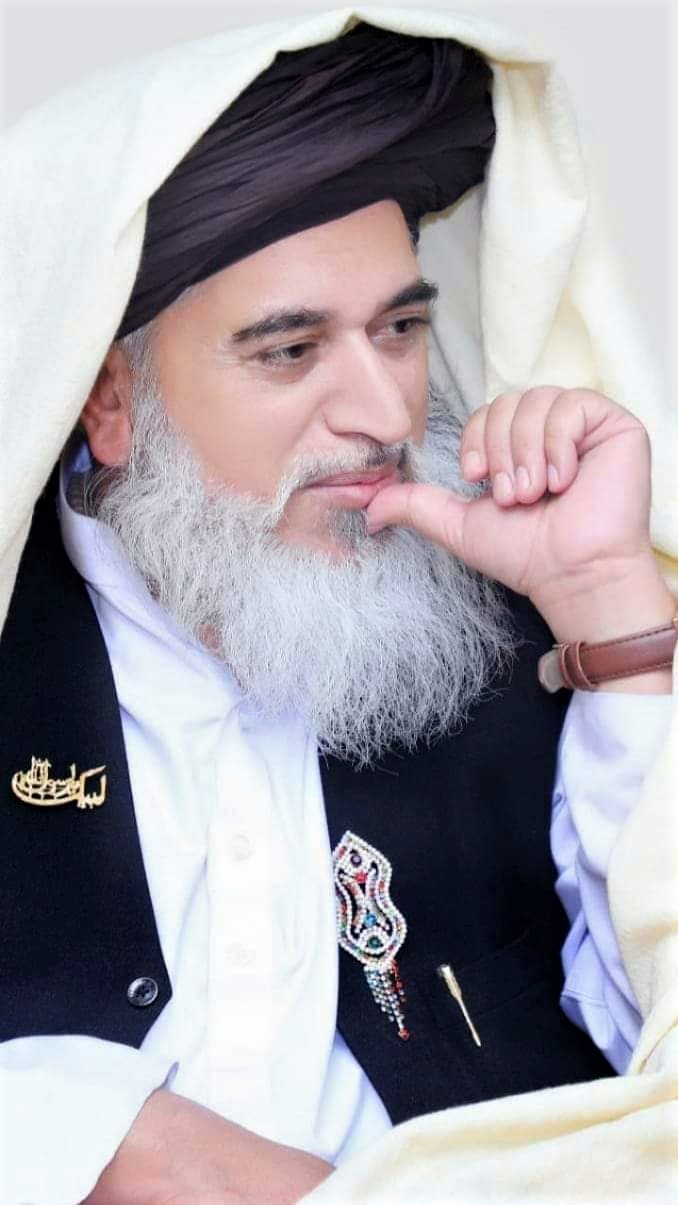 ·The Federal Law Minister ought to leave through whose service change in the law identifying with Finality of Prophethood made. The TLYRA would not give any Fatwa (decision) against the pastor.
·TLP acknowledges the revision (incorporation of 7B, 7C) made in Election Act alongside the affirmation by the public authority on request of TLYRA report of Leader of the House in Senate, Raja Zafarul Haq council will disclose inside 30 days and move will make against the liable for the previous disputable correction according to a tradition that must be adhered to.
·All activists of TLYRA, who have captured/kept since the beginning of Dharna (protest) from November 6, ought to be delivered within three days while bodies of evidence against them removed.
·The harm to the public and private properties from November 6 to as of recently (during Dharna time) should gathered and money related misfortune in such manner borne by the Federal government.
·Both the public authority and delegates of protestors likewise arrived at an arrangement that the focuses identifying with the administration of Punjab, whereupon agreement had made, ought to be actualized in letter and soul.
Zahid Hamid resigned as Federal Law Minister in face of countrywide fights and Faizabad demonstration by strict gatherings over the Khatam-e-Nabuwwat provision disaster [2].
Khadim Hussain Rizvi Protest in Islamabad on 25th November 2017:
Many Pakistani cops in revolt gear ended poisonous gas on Saturday as they attempted to get out allies of a troublemaker priest who have incapacitated the Pakistani capital for quite a long time with dissent on a principal highway.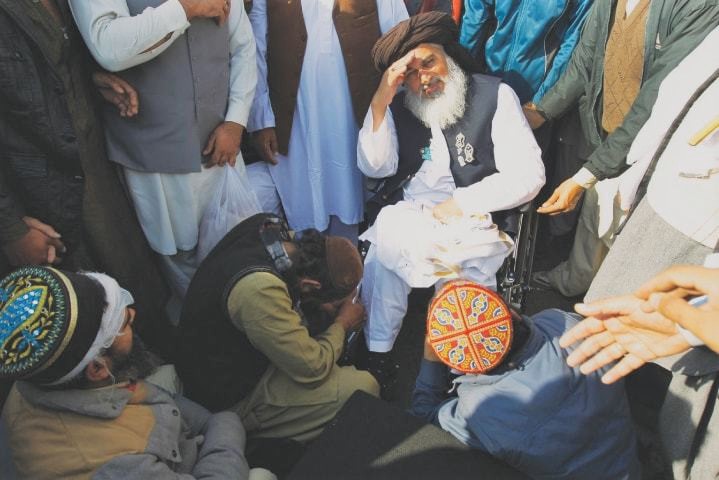 At least 200 individuals were harmed in the brutal encounter and the fight spread to different urban communities considering the showdown in Islamabad, where allies of the minister, Khadim Hussain Rizvi, have stayed outdoors at the Faizabad Interchange, hindering the fundamental street from Rawalpindi.
Mr. Rizvi, who drives the Tahreek-e-Labaik Pakistan party, is requesting the renunciation of Pakistan's law serve Zahid Hamid over a change to discretionary laws that altered the phrasing of a promise depended on lawmakers. The move immediately turned around. However, his allies had impugned the underlying change as disrespect a profoundly burnable issue in Pakistan, and one that has consistently prompted demonstrations of savagery[2].
Quotes by Allama Khadim Hussain Rizvi:
·If someone opts to not serve the cause of Islam, Islam does not kneel before him for help. Instead, it empowers the weak to stand before aggressors and awards them victory.
·The Islamic clerics, scholars, and leaders who saved their mosques, madrasas, and turbans instead of coming out to save the respect of the Holy Prophet Muhammad (Peace and countless blessings of Almighty Allah be upon him), their services are no more wanted by Islam.
·Islam preaches peace and self-respect. People teach Islam is peace and mean it to give out the message.
·Daughters of Kashmir; you can jump in the river Jhelum as no Shah Mehmood Ghaznavi is coming to save your respect from Hindus, do not expect help from us as Islam teaches peace now.
·The daughters of Syria, no Salahud Din Ayyubi will come to save you as Islam preaches peace nowaday.
·Daughters and sons of Burma don't expect help from us as Islam teaches peace.
·The judges of the supreme court refused to accept eleven verdicts of the Holy Prophet Muhammad (Peace and blessings of Almighty Allah be upon him) when the blood of blasphemers went wasted and no qisas or blood money punishment was imposed on killers. (Referring to judicial murder committed by the supreme court of Pakistan with Ghazi Mumtaz Qadri Shaheed)[2].
More About Allama Khadim Hussain:
·The judges of the supreme court laughed and mocked, "Is it possible for someone to hurt Allah?" when the verse recited to them, ان الذين يؤذون اللہ ورسولہ لعنہم اللہ في الدنيا والآخرۃ واعد لہم عذابا مہينا (الاحزاب-57). It is the worst thing that can happen in Islamic Pakistan. It results from a counterfeited version of Islam preached by us, the clerics, and the peers (spiritual guides).
·On the day of the conquest of Mecca, the Holy Prophet Muhammad (Peace and blessings of Almighty Allah be upon him) found a bitch with cubs in the path of his ten thousand followers. He instructed a man to stand by her and divert the followers so as no one mistakenly harms her or her cubs. He killed a blasphemer poet by name of Abdullah Ibn Khattal in the Holy Kabba when he tried to get protection in its curtains. (Blasphemy is such a big crime that not even Kabba protects such a person. Had he come to the Holy Prophet Muhammad (Peace and countless blessings of Almighty Allah be upon him), asking for forgiveness, he would surely have met a different fate as it happened to Ka'b bin Zuhayr.) [2].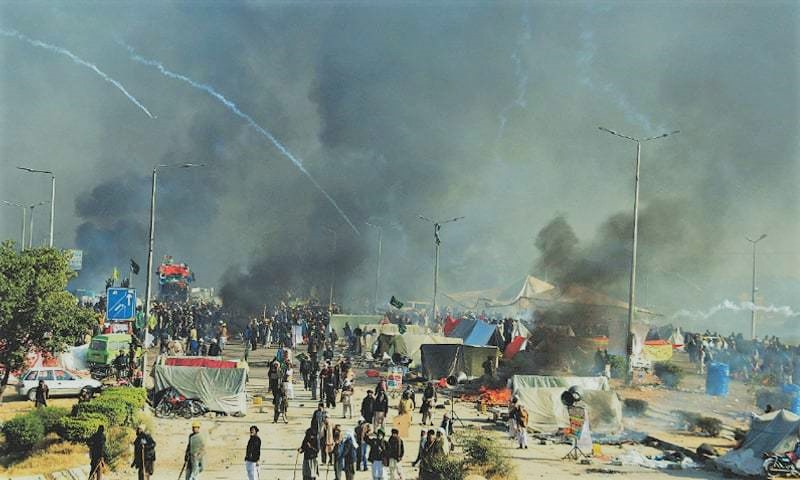 Fatiah Prayer:
On 9-November-2016, Allama Sahib coordinated a Fatiah supplication at the Dr. Iqbal Mausoleum Lahore. He and his supporters were being confined by the officers sent to the grave. Allama Sahib delivered a little discourse looking like an exchange with Iqbal and asked him the inquiry for what good reason he stayed strong with the Ghazi Ilam ud Din Shaheed and viewed as a saint however Molvi Khadim Hussain remained with Ghazi Mumtaz Qadri.
He remembered for the fourth timetable, a proviso to confine the development of profoundly hazardous lawbreakers who need to advise to regard their developments. Allama Sahib regularly states, "Look I am an impaired individual on wheel seat and I am on the fourth timetable for my wrongdoing being standing firm for the regard of the Holy Prophet Muhammad (Peace and innumerable favors of Almighty Allah arrive)" [2].
The Controversy of Zindagi Tamasha 2020:
In 2020, Rizvi advanced fights on the Pakistani film Zindagi Tamasha. He blamed producer Sarmad Khoosat for profanation. The material he affirmed to be profane incorporates analysis of ulama and a supposed reference to bacha bazi. Pakistani creator Mohammed Hanif, who had seen both the controlled and uncensored variants of the film, rejected that it contained any analysis of ulama in the film [1].
Khadim Rizvi's Insensitive Call to Attack France:
The religious leader group of Tahreek-e-Labbaik Khadim Rizvi declared Jihad against France for making the cartoons of Hazrat Muhammad S.A.W. He sentenced on 24th October 2020 to launch a nuclear attack against France for making the cartoons of our beloved prophet Hazrat Muhammad S.A.W. The reckless remark is an immediate danger to worldwide harmony.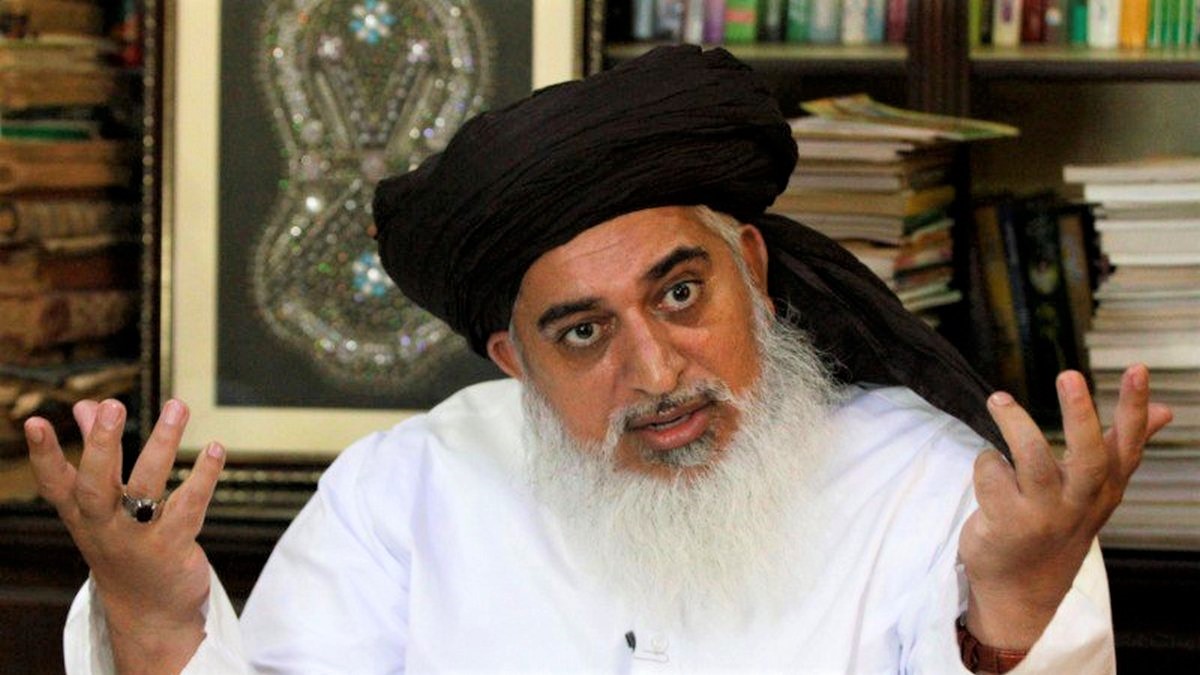 In a video posted on his YouTube channel, Rizvi uses incendiary language to approach the public authority to use its "concealed 10th nuclear bomb" and announce a jihad that would murder everybody.
"If you need poise in this world and the great beyond, on the off chance that you need the Islamic country to endure, at that point announce [on the Prophet's birthday] that Islam orders Jihad against the individuals who criticize the Prophet, Muhammad. I am announcing Jihad," said the originator of Tahreek-e-Labbaik Pakistan (TLP), an extreme right Islamist ideological group [3].
Hostile to Muslims:
His assertion has pulled in analysis globally, further irritating the ill will among Islam and the rest of the world lately. Instead of tending to the current issue, Rizvi's discourse just persuades hostile to Muslim components to additional their contention against the lessons of Islam. Presently, his remarks have likewise strengthened the possibility of Pakistan as a 'fear-monger country.'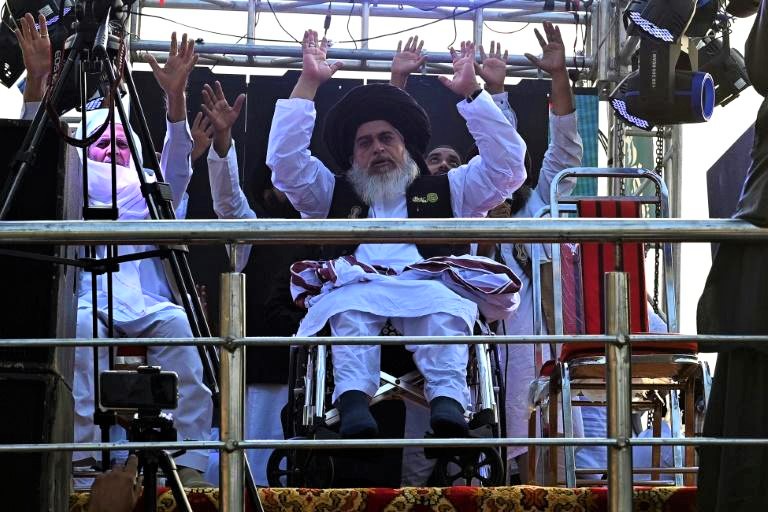 Belgian Parliamentarian Filip Dewinter retweeted Rizvi's video cut saying, "Europe is not aware how insane certain Pakistani-Islamic political leaders are. This is the Islamic scholar Allama Khadim Hussain Rizvi, who calls on the Pakistani government to use the atom bomb against Europe. Pakistan is a terror state!"
In a video posted on his YouTube Channel, Khadim Hussain Rizvi used inspiring language to call on the government to use the "hidden 10th atom bomb" and also declare Jihad, which can kill everyone.
"If you want dignity in this world and the if you want the Islamic nation to survive, then declare [on the Prophet's birthday] that Islam orders Jihad against those who slander the Prophet, Muhammad. I am declaring Jihad," said the originator of Tahreek-e-Labbaik Pakistan (TLP), a far-right Islamist political party [3].
Allama's Death:
On 19th November 2020, Rizvi taken to the Sheikh Zayed Hospital in Lahore after falling. He pronounced dead at 8:48 pm. Allama had sick for a couple of days and had been wheelchair destined for some time. He had fever and breathing issues while some likewise claimed that he may have Covid-19 [1].
Allama Khadim Hussain Rizvi's Books:
A portion of his books include:
·Tayaseer Abwab-ul-Sarf (تیسیر ابواب الصرف), Maktba Majadia Sultania, 2013, 680 p.
·Taleemat-e-Khadimiya (تعلیمات خادمیہ), Allama Fazal Haaq Publications, 2015, 677 p.
·Fazail-e-Durood Shareef (فضائل درود شریف), Dajkot, 2018, 332 p.
References:
1. 23rd November 2020; Available from: wikipedia
2. 23rd November 2020; Available from: pakpedia
3. 23rd November 2020; Available from: sabrangindia