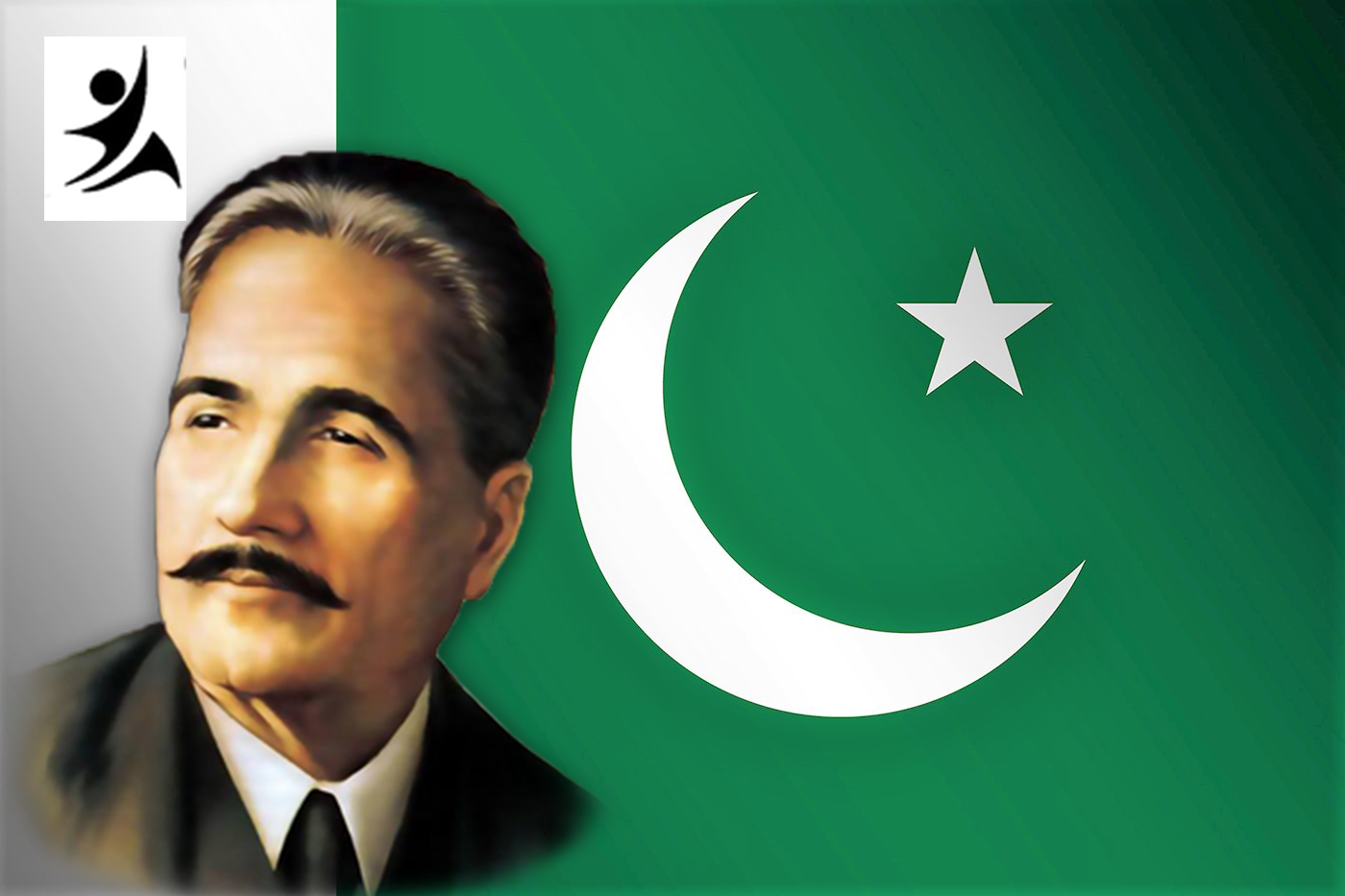 Introduction:
Allama Iqbal was the National Poet of Pakistan, Great Poet and Philosopher of Muslims. He was a barrister, philosopher, thinker, and poet. We know Allama Iqbal to be the "Father of Spirit of Pakistan" of the contributions to the nation. He Watched the dream of making a separate country for the Muslims to worship Allah and do their religious activities there. Allama Iqbal had a love to write poetry, he wrote poetry in "Urdu & Persian" and became the national poet of Pakistan.
The Muslims of Indian, Bangladesh, Afghanistan, Pakistan appreciated him, and international literature and western scholars. We also know Allama Iqbal to be the best poet and also claimed as the "modern times philosophical thinker". The first poetry was "Secrets of self", which was published in the Persian language. Some books published later like "secrets of selflessness, the message from the East and Persian Poems [1].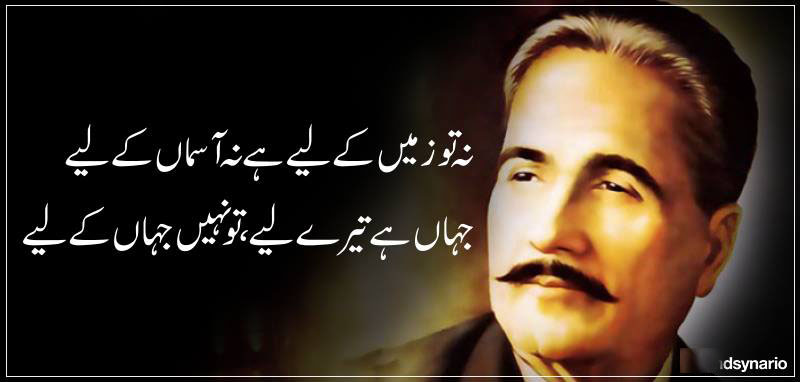 | | |
| --- | --- |
| Date of Birth | November 9, 1877 |
| Place | Sialkot province of Punjab |
| Death | Died in LAHORE, 21 April 1938 |
| Cause of Death | Illness and weakness |
| Early education | Sialkot from Masjid |
| Higher education | Government College Lahore, a doctorate from the Ludwig-Maximillian University in Munich in 1907, the bar at law in 1908 from Lincoln's Inn. |
| Interest | Persian language poetry |
| Urdu Books | Ilm ul Iqtisad (1903) |
| English Books | The Development of Metaphysics in Persia (1908).The Reconstruction of Religious Thought in Islam (1930) |
| Poetry Persian Books | Asrar-i-Khudi Rumuz-i-Bekhudi (1917)Payam-i-Mashriq (1923)Zabur-i-Ajam (1927)Javid Nama (1932)Pas Cheh Bayed Kard ai Aqwam-e-Sharq (1936)Armughan-e-Hijaz (1938) (in Persian and Urdu) |
| Poetry Urdu Books | Bang-i-Dara (1924)Bal-i-Jibril (1935)Zarb-i Kalim (1936) |
Personal Life:
Allama Muhammad Iqbal was born on November 9, 1877. He was from an ethnic Kashmiri family that lived in Sialkot. That time, it was British India and now it is in Pakistan. His family members were Pandit and moved to Islam in the 15th of a decade.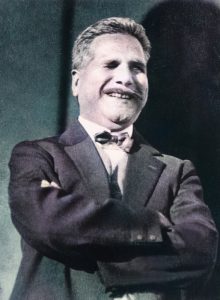 The background village "Kulgam", after accepting Islam to go back to their former village. His family migrated to Punjab when Sikh Emperor was subordinate to Kashmir and father was the 8th cousin of Sir "Bahadar Sapru". His father wanted his son would become a lawyer [1].
Allama Iqbal often mentions his Kashmiri ancestry in his books. His father was a tailor, an illiterate man, but he was a religious man.
His mother from the Punjabi Family and name was "Imam Bibi", lived in Sambrial. She was humble with everyone and was helping women.
She helped the poor and the needy persons, and solve their problems, but died in Sialkot dated November 9, 1914. Allama's mother's death left sorrow and eulogy. She always waited for them when he went out for study and job. He loves her mother a lot [1].
Wives of Allama Iqbal:
Allam Iqbal Marriages three times, wives named "Karim Bibi, Mukhtar Begum, and Sardar Begum" [1].
The first marriage in 1895 when he was 18 years old, Karim Bibi was the daughter of the physician. Her father's name was "Khan Bahadur Ata Muhammad Khan [1]".
The second marriage in 1914, Mukhtar Begum after the death of Allama's mother died. They had a son but the mother and son died after giving birth to a child soon [1].
They held the third marriage with Sardar Begum, from which they become the parents of a son named Javed Iqbal. Javed Iqbal becomes a judge and her daughter Muneera Bano [1].
Allama Iqbal's Education: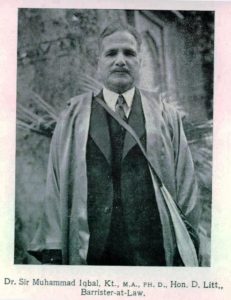 Allama Iqbal was about four (4) years old, he joined Masjid, where he learned about the Qur'an. His teacher Syed Mir Hassan taught him the Arabic language. He was the principal of Madrasa and Professor in Sialkot of Arabic in "Mission College".
In 1893 completed Matriculation, got faculty of diploma 1893. He completed intermediate in 1895 from Government College University. At the same institution, in 1897 he completed "Bachelor of Arts in Philosophy, English literature and Arabic".
He performed well in Arabic and won the medal of Khan Bahadurddin F.S. Jalaluddin. Allama Iqbal completed a Master of Arts from the college (Government College University). He got first prize at the University of Punjab [1].
Education from Europe:
Allama Iqbal's thesis completed in the Persian language, which was then titled "Development of Metaphysics in Persia" by the instructions of "Friedrich Hommel". Allama Iqbal had an interest in Islamic Studies and "Sufi beliefs". He expressed ALLAH and his Prophet Hazrat Muhammad (S.A. W) in his poetry [1].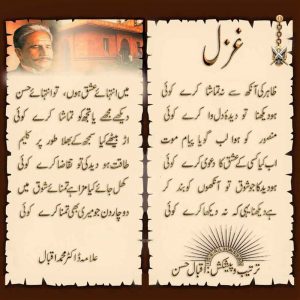 The tutoring of "Sir Thomas Arnold" affected Allama Iqbal. He was the philosopher at the "Government College Lahore", followed by the West in his Higher Education. He went to England to learn philosophy in 1905.
While studying in England, he already known to Friedrich Nietzsche and Henri Bergson. He wanted to teach "Masnavi" to a friend "Swami Rama Tirtha". Mutually, he teaches "Sanskrit" to Allama.
He got a "Bachelor of Arts in 1906" from "Cambridge University" and got the scholarship. Lincoln's Inn called to the bar in the same year. Allama Iqbal went to Germany to get the degree of "Doctor of Philosophy" in 1907 from the "Ludwig Maximilian University of Munich, 1908"[1].
Completion of Academic Career:
Allama Iqbal completed his Master of arts degree in 1988 and started his career as an Arabic reader at Oriental college. He appointed as a junior professor of Philosophy at Government College Lahore. Allama Iqbal studied at that college when he was a student and worked there. After that went to England in 1905. He returned from England in 1908 and joined the same college and become a professor of philosophy and English literature. He became a member of the "Anjuman-e-Himayat-e-Islam"[1].
Legal Career:
We also knew Allama Iqbal as the advocate because of his productive writing. He appeared before the Lahore High Court in both civil and criminal matters [1].
Last Years and Death:
When Allama Iqbal returns from Spain and Afghanistan's trip, he had suffered from a throat illness. He helped "Chaudhry Niaz Ali Khan" to establish the "Dar-ul-Islam Trust" institute at Jamalpur and spent the last years of life [1].
Concept of Pakistan According to Iqbal & Jinnah:
They separated the Muslims from the Congress; it was ideologically wrong that Muslims and Hindus cannot live with each other. Allama Iqbal returned from London and take charge of the Muslim League. He had a strong friendship with the Jinnah. Allama Iqbal knows the Jinnah was the person who can take charge of the Muslim League and maintain the party before the British and the Congress. Allama Iqbal wrote a letter to the Quaid-e-Azam [1]:
"I know you are a busy man, but I hope you won't mind my writing to you often, as you are the only Muslim in India today to whom the community may look up for safe guidance through the storm which is coming to North-West India and, perhaps, to the whole of India."
Muammad Ali Jinnah member of Congress:
Jinnah was a member of the Congress and would continue talks with them. Jinnah does not want India to part into two pieces. But, Allama Iqbal insisted on Quaid-e-Azam that Hindus and Muslims are two nations, they both have novel ideas. They cannot live with each other and wrote a letter on 21 June 1937 to Quaid-e-Azam Muhammad Ali Jinnah [1].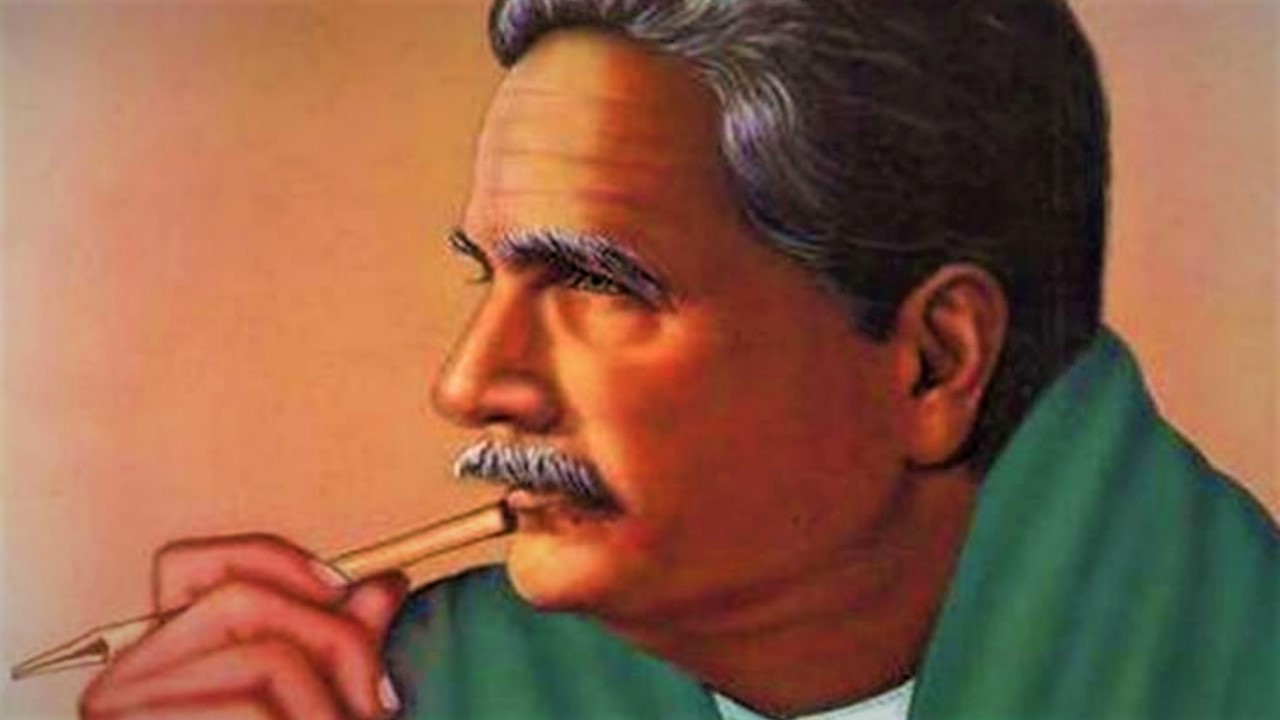 "A separate federation of Muslim Provinces, reformed on the lines I have suggested above, is the only course by which we can secure a peaceful India and save Muslims from the domination of Non-Muslims. Why should not the Muslims of North-West India and Bengal considered as nations entitled to self-determination just as other nations in India and outside India are?"
Allama Muhammad Iqbal, The President of Muslim League:
Allama Iqbal remained as the President of the Muslim League, he criticised the Quaid's political actions. He continuously supports the Muslim League and the Muslim Leaders. Allama Iqbal Speaks about the future of the Muslims living in India [1]. He said:
"There is only one way out. Muslims should strengthen Jinnah's hands. They should join the Muslim League. Our united front can counter Indian question, as is now being solved against both the Hindus and the English. Without it, our demands will not accept. People say our demands smack of communalism, and this is sheer propaganda. These demands relate to the defence of our national existence. The united front can form under the leadership of the Muslim League. And the Muslim League can succeed only on account of Jinnah. Now, none but Jinnah can lead the Muslims."
Islamic Politics Revival:
He published the six lectures in 1930 in Lahore and after by Oxford University in 1934 in the book "The reconstruction of Religious Thought in Islam". These lectures delivered in "Madras, Hyderabad, and Aligarh." Allama Iqbal rejects the political attitudes and attached to the Muslim politicians that were misguided [1].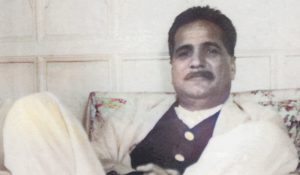 He travelled to "Afghanistan, Egypt, Iran and Turkey" and promoted the ideas of the great Muslim Political cooperation. Allama Iqbal elected as the Muslim League's President in 1930 in Allahabad and the sessions occur in Lahore in 1932. He gave the state for Muslim-majority in northwest India on 29 December 1930 [1]
"I would like to see the Punjab, North-West Frontier Province, Sind and Baluchistan amalgamated into a single state. Self-government within the British Empire, or without the British Empire, the formation of a merged Northwest Indian Muslim state appears to me to be the ultimate destiny of the Muslims, at least of Northwest India."
Allama Iqbal said that Islam has the "legal concepts" with "civic significance" with the "religious concepts". He stressed about the Muslims of India that need the political unity of Muslim communities but the Muslim population into the wider society that was not based on Islamic Principles [1].
Thus, Allama Iqbal became the first Muslim Leader who gave the idea of the "Two nation theory". He remained the president of the Muslim League and deliver speeches and publish articles for the Muslims of India [1].
Supporter of Tolu-e-Islam: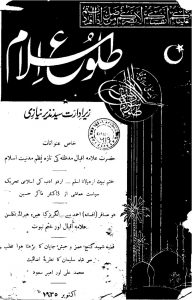 Allama Iqbal was the founder of the Tolu-e-Islam. He was the historical, political, and cultural writer and journal of the Muslim in British India. According to the instructions of Syed Nazeer, Allama Iqbal edited the journal and named it after Iqbal's poem "Tulu-i-Islam" in 1935.
Niazi devoted the first issue of the journal of the Allama Iqbal. This journal played an important role in the movement of Pakistan. Ghulam Pervez had contributed many articles in its early editions in this journal [1].
Literary Works of a Great Poet and Philosopher of Muslims:
Persian:
Allama Iqbal wrote poetry in Persian and Urdu as well, he wrote about 12000 verses of poetry and 7000 verses were about in the Persian Language. "Asrar-i-Khudi" written in the Persian language in 1915, and it was the first book that was published. Many cities liked the poetry work of the Allam Iqbal. "Asrar-i-Khudi" represents the Urdu word "Khudi" or "Self". Allama Iqbal uses the word "Khudi" means "Rooh" that is used in the Quran for an expect spark which is present in all human being.
Allama Iqbal wrote "Rumuz-i-Bekhudi" which represent Selflessness, he explains the code of Islam that how to live your life according to the Islamic ways. He said in this book that a person should keep his characteristic complete and perfect. Allama Iqbal wrote poems that were published in 1917. These poems tell us the religious, social aspects, the relationship between the individual and the society [1].
Bang-e-Dara: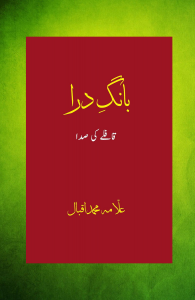 Bang-e-Dara was the first collection of the Allama Iqbal of Urdu Poetry, published in 1924. Bang-e-Dara written in three different phases of life. He wrote a song about India that was "Tarana-e-Hind" and the song of the Community "Tarana-e-Milli" in 1905.
The second set of poems written from 1905 to 1908, when he studied in Europe. Allama Iqbal's mostly worked in the Urdu language from 1930[2].
Link to download book: http://iqbalcyberlibrary.net//pdf/1909.pdf
Bal-e-Jibril (Wings of Gabriele):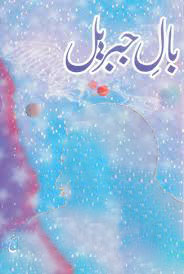 Allama Iqbal wrote the book Bal-e-Gabriele, which represents the best Urdu poetry and inspired by a visit to Spain. Where he studied the historical places and heritage of the Kingdom Moors.
Bal-e-Gabriele comprised ghazals, poems, quatrains, and epigrams that carry a strong sense of religious attachments[3].
Link to download book: http://www.iqbalcyberlibrary.net/pdf/1921.pdf
Zarb-e-Kalim:
Zarb-e-Kalim also named "The Rod of Moses") is a philosophical poetry book of Allama Iqbal. This book published in 1936, 2 years before his death. In this book, he describes the political manifesto. Allama Iqbal also known as "the poet of the East", which explained the injustice of modern nations, exploitation of weak nations, and especially the described the Indian Muslims. The most famous book published in 2002 from "Iqbal Academy Pakistan"[3].
Link to download book: http://www.iqbalcyberlibrary.net/pdf/1922.pdf
References:
1. 14th July 2020; Available from: wikipedia.
2. 14th July 2020; Available from: amiqbalpoetry.
3. 14th July 2020; Available from: wikipedia.